Printing and Folding the Love Letter
Love Letter Front Side
Love Letter Back Side
Download and print the above Love Letter. Side one and side two. Print FRONT with (#2) in the upper left corner of sheet, which is side one. Print BACK side where the (#5) will be in the upper right corner of sheet. This will correctly have (#2) and (#5) back to back in the same corner of sheet of paper.
To correctly fold the letter, starting with side one, fold the sheet in half. (See example: First Fold) Turn sheet where (#1 and #2) are on top, then fold in half again, keeping the (#1 and #2) facing you. (See example: Second Fold) Then, fold in half again, keeping (#1 and #2) on the outside of the fold. (See example: Final Fold) Your Love Letter is ready to be given, in the Love of Christ, to someone whom Jesus loves and died to save!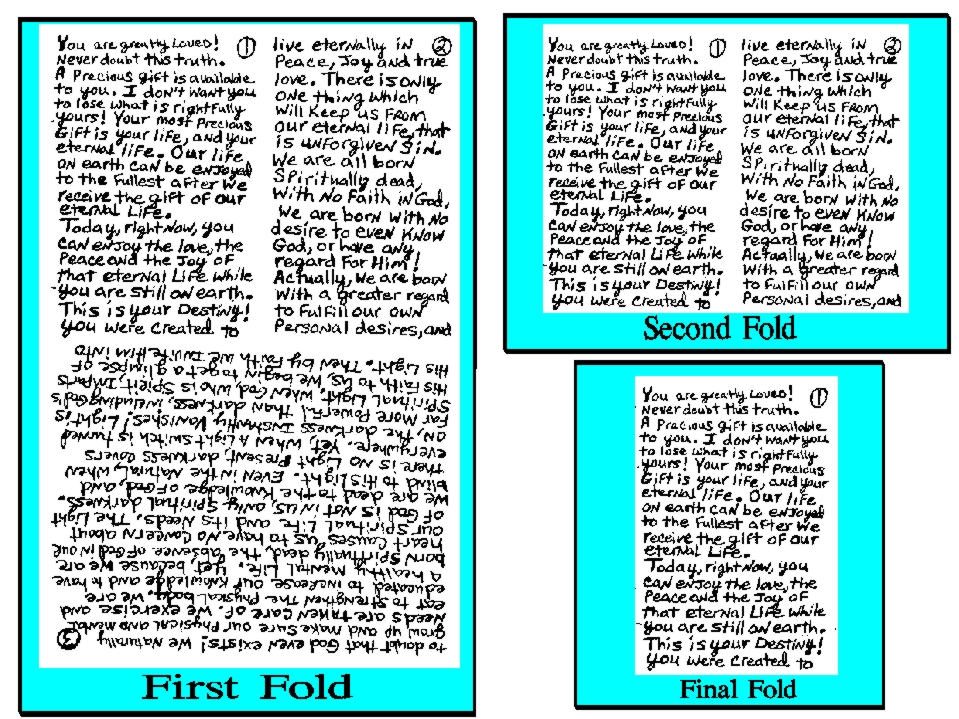 We are Called by the LOVE of Christ Jesus, to reconcile the lost to the Father, and NOT to live for OURSELVES!
14 For the love of Christ compels us, because we judge thus: that if One died for all, then all died; 15 and He died for all, that those who live should live no longer for themselves, but for Him who died for them and rose again. 16 Therefore, from now on, we regard no one according to the flesh. Even though we have known Christ according to the flesh, yet now we know Him thus no longer. 17 Therefore, if anyone is in Christ, he is a new creation; old things have passed away; behold, all things have become new. 18 Now all things are of God, who has reconciled us to Himself through Jesus Christ, and has given us the ministry of reconciliation, 19 that is, that God was in Christ reconciling the world to Himself, not imputing their trespasses to them, and has committed to us the word of reconciliation. 20 Now then, we are ambassadors for Christ, as though God were pleading through us: we implore you on Christís behalf, be reconciled to God.(2nd Corinthians 5:14-20)
---